One of the greatest bargains going for local and regionally oriented businesses with a physical location is displaying at the top of search engine's local search results. This opportunity goes far beyond Mom & Pop stores, providing stellar visibility for franchises, national businesses with local presence, chain stores, healthcare entities, etc. Some basic Internet local marketing tactics are frequently all that's needed to succeed.
And yes, I know, it's confusing – after all, what are local search results? 
Well, you've seen them. They appear prominently whenever you've doing locally intended searches, such as in the example below where I searched for a yoga studio on Google. (Our examples all orient around Google but are also good for Yahoo! and Bing.) You notice a couple of things about these local search results right away: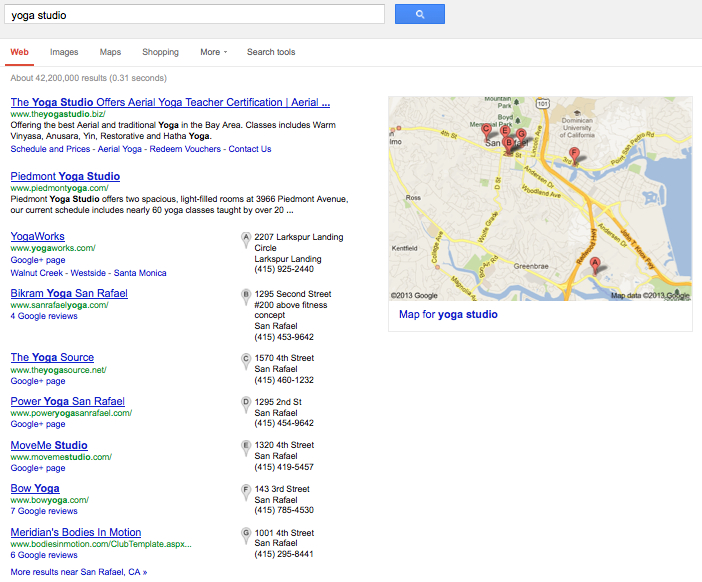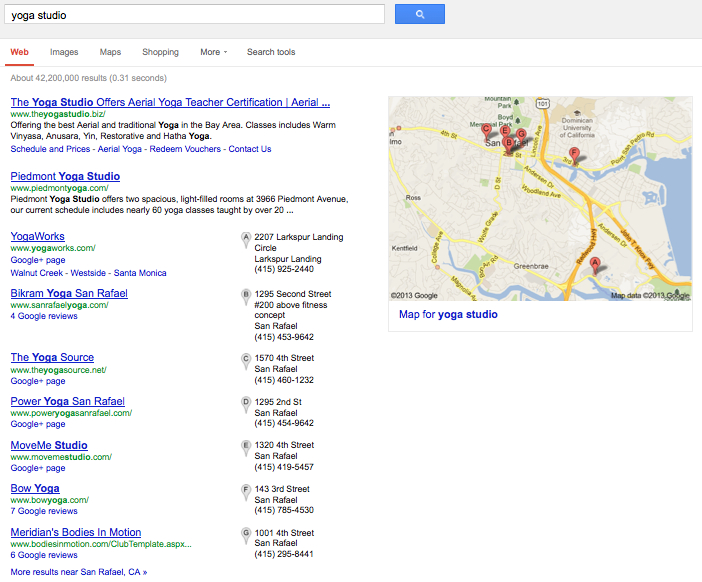 Local Internet marketing search results are prominently displayed near the top of Google, sometimes you'll find them in other locations on the page but still quite prominent.
A colorful map with balloons that match the result snippet balloon to the right accompanies the eye-catching search results displayed.
Reviews are highlighted.
One thing that's slightly less obvious is that I didn't specify that I wanted results for San Rafael, California. Google's quasi-artificial intelligence presumed that I wanted local results and identified my location by reading my IP address. Not full-proof, because after all I could have been in Paris, but pretty slick nonetheless. This is aggressive action on Google's part. The other search engines do the same in their quest to present the most robust local results and capture lucrative local advertising revenue.
Here's the thing: this listing is FREE. And, research shows that people searching for local businesses have a high propensity to take action right away. In the case above – the probable action is to visit the studio, take a class and potentially sign up for membership. 
OK – so getting into local search results can give you great exposure. That's only part of the story about the magnitude of this opportunity. The other part of the story is in understanding that local search behavior is rapidly growing. In addition to the changes in technology at the search engine's end, there's a staggering amount of change in digital devices and related behavior that supports this growth:
Mobile usage is predicted to pass desktop usage in 2014. 
Google states that 50% of all local searches are from a mobile device and that 40% of mobile searches have local intention. Microsoft says that 53% of mobile search has local intention.
There's also a trend toward multiple device ownership that impacts local search. People who only own a PC perform 5 local searches a week, on average. However, people who own a PC, smartphone and tablet performed 21+ local searches a week! (Immr Local Search Study, July 2012)
Hopefully you're now wondering how to get to the top of local results. Here's the thing: that's not quite so easy, yet still do-able. Following are the basics for getting properly listed using Internet local marketing tactics:
Job #1 is to simply get into the local listings! If there is a listing displaying for you that you did not create, claim it. Claiming means you go through a verification process that ensures you're the owner or official representative of that entity. Claiming verification can be quite cumbersome. If there is no listing for your business, you need to submit your listing to the search engines. Here's where you go to do that:
Optimize your listing so you can be found by the search engines. You do this by using basic local search optimization techniques, like ensuring that the local listing title and description contain keywords with high search volumes that also trigger local search results. 
Make sure you're listed in relevant categories for your business. That will increase your odds of being displayed when people search using keywords from those categories (you can be listed in several categories).
You may not need to do more that the above if your competitors are asleep at the wheel. And, there's a difference between being listed anywhere and being listed in the top ranked positions – there's a sharp drop of in attention between the #1 position and the #7 position. 
If you're in a highly competitive category with numerous local competitors, you'll need to do more. We take as many as 30 additional actions per search engine to get into top positions.  And you need to stay on top of this – if competitors react, you'll want to use more aggressive Internet local marketing tactics to keep the top ranking positions. 
Related Posts: