There's a ton of information about Internet marketing strategy floating around online. Yet precious little of that presents the practical elements needed for a viable online strategy.
It's a pet peeve of mine — and a couple of these elements just aren't found in B-school textbooks. When these practical elements aren't done right or included (often the case), everything else under-performs, requiring unplanned course-correcting measures to get back on track.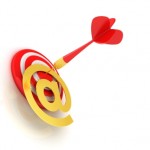 Balance

Balance in all things — a balanced mix of areas factored into your Internet marketing strategy and a pragmatic balance of the internal resources needed to build, launch and performance manage execution of the strategy.

Online Branding Presence

Organizations need to go way beyond Internet brand advertising and think about how the brand (and its representatives) participate and come across in key online marketing channels — most notably Social Networks.

Are you transparent? Are you perceived as authentic? Is this more than an internal slogan? Check our podcast with Linda Popky What's the Value of Online Branding for more ideas.

Keyword Research

OK — this is really my pet peeve. If you talk to rock-star Internet marketers they will all tell you one thing — they really, really, truly really to the max obsess over their keyword list. And, their obsession is not a one-time event.

Keyword phrases are how people who don't know about you find you… get very, very serious about this. Check out Internet Marketing Best Practices: Smart Keyword Marketing.

Conversion Functionality

The vast majority of businesses stop short of defining this in their online marketing strategy. An online strategy that only factors in driving traffic to the website is missing the point — what actions do you want them to take once they get there?

My experience? If you don't spell out the conversion functionality expectations for your website in the strategy, don't expect the planning and execution to deliver great results.

Online Competition

Ahem… I said AHEM! Hello? What's your competition online doing? It is SO easy to reverse engineer your Internet competition and develop a strategy to eclipse them and build a competitive advantage.

While we're at it, PLEASE understand this: competitors are any entity in a higher position than yours in the Search Engine results pages for your targeted keywords. When you consider that the #1 position on Google gets 42% of the clicks and the #2 position drops to 12% — you quickly start to think differently about what constitutes a "competitor."
Some of these elements get overlooked because they're "soft" items — looking at Balance elements such as: time constraints, internal skills vs. outsourcing, organizational temperament, etc. A solid Internet marketing strategy includes these items to drive attainable results they can count on for success.
Related Posts: