Most of the world is not familiar with a strategy that is reasonably well-known to Internet Search Marketers: The Long Tail Strategy.
The Long Tail Search Marketing Strategy means that you target getting a high ranking position in the Search Engines for search phrases that use 3 or more words. They are known as the "Long Tail."
Why should you care to learn about this strategy? Actually — a couple of really good reasons:
The strategy works for all kinds of businesses. (But it really can be a bonus for those with more brains than budget.)
Long Tail searchers are generally more relevant to your business.
Long Tail search now represents the majority of online search activity.
Kinder competitive waters.
Now there is even more reason than ever to focus on Long Tail keyword phrases. A new piece of research from Hitwise shows over half of all searches involve 3 or more words in the search phrase. Even more interesting is the growth of search activity using 8 or more words!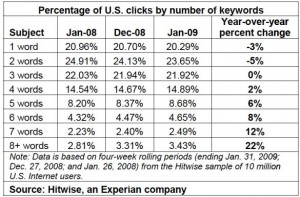 Frequently, average or new businesses that do not have deep pockets or deep Search Engine Optimization (SEO) expertise simply cannot come up with the time, money and expertise required to break through to top Search Engine positions for highly competitive 1 – 2 word search phrases. Long Tail offers a path to success that is attainable.
Moreover, searchers who use longer keyword phrases are usually more relevant and more intent on finding specific information and/or solutions. Wouldn't you like to be in front of them?
Further, it is actually easier and more affordable. The competition for top ranking positions for 1 – 2 word searches is fierce and far more of these searchers are not relevant to your business — too generic.
Even so, most businesses (read: your competitors) still target 1 – 2 keyword phrases, drawn to this approach like a moth to a flame and not particularly cognizant of how difficult it is to gain ranking or how irrelevant much of this search is to their goals.
So, I have always liked working the Long Tail area — when you get searchers using longer keyword phrases you are just more likely to be successful and actually generate a sale or lead.
CGG38HFPFSGA
Related Posts: