Mobile marketing is the rage right now – and with good reason. Mobile Internet usage is projected to eclipse fixed Internet usage sometime in 2014 according to a number of forecasts.
Yet many businesses don't fully grasp the implications of this because they only think of mobile marketing as relevant when potential prospects are "on the move" and believe that's not pertinent to their business.
It's time to re-frame the notion of mobile and start thinking of Mobile as Untethered. If you own mobile devices you already know that your usage is just as likely to be in your home or residence as away from home/office and on the move.
The real benefit to mobile devices is that they free us all up from the need to be in front of a tethered device – usually your desktop computer but even laptops.
It's about convenience.
It's about the convenience of being plugged in wherever we choose – on the patio, in a favorite chair, multitasking in front of an SF Giant's game… whatever. Mobile is a convenience that frees us up from needing to be at a certain spot to have access to the Internet.
And this march to embrace mobile convenience re-frames how businesses need to think about mobile marketing. Mobile search alone should cause you to wonder how your website renders on mobile devices. Mobile search currently accounts for an astounding 23% of all search activity!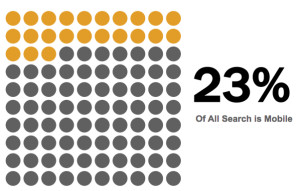 Mobile users also have an affinity to use their devices to participate in webinars or view on-demand webinars, watch videos or listen to podcasts. If your company engages in any of these content marketing activities, do you know if your target audience can fully participate, view or listen when they're untethered? Are you able to capture members of your target audience who prefer to consume your content on mobile devices?
In other words – all businesses need to ensure that their website is ready for mobile search, viewing and engagement.   
If you're wondering how you can tell if your site's mobile-ready or whether there's sufficient mobile usage among your potential prospects to warrant attention to this, here are a few ways to scope that out:
Check your website's analytics to see the growth of mobile traffic. I guarantee you'll be surprised to see the growth year-over-year.
Do some sleuthing to find out if your site is truly mobile-ready.  We have a list of free or low-cost mobile readiness testing services that help you out.
For me, I find myself wondering how many hours a day do people on average spend  using mobile devices when they aren't actually… well, on the move. And I wonder how that differs for Untethered B2B versus Untethered B2C and how that might impact thinking about mobile marketing. Has anyone seen some research on that? What do you think?
Related Posts: