For a while now I've been running into really fun examples of creative offline marketing tactics that drive online goal fulfillment. And the wild part is they're really diverse – and it seems like EVERYONE's getting into the game now! Here are a couple of recent examples that smacked me in the face.
Example #1 – The Woman with a Hat and an Issue
Lynne, a woman that I met hiking in the hills of Marin County in California, supports an initiative to require labeling of genetically engineered foods. By the time you read this, the proposition for that will likely have failed, mostly due to big money opposition. The supporters of the proposition were paupers in comparison to the opposition, so they had to use grass-roots tactics (also known as cheap).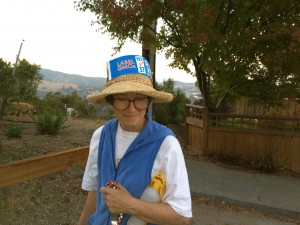 Enter Lynne – who was wearing an eye-catching hat advertising her support of the proposition while she's hiking the hills in Marin when I first noticed her. Lynne runs into dozens of people on the trails every time she goes out with her dog, Lew, which happens at least twice daily.
Every time I see Lynne, while hiking with my Dalmatian pal, Hansel, I also see people coming up to ask her about the hat and chatting her up. She's just reeling them in!
You may not be able to see it from this picture, however, the hat has the URL of the website that people can go to for more information. She's created awareness and interest and gotten in dozens of great hikes in the gorgeous hills of Marin. 
How many go to the website? I don't know, but I'll bet more go to the website from Lynne's hat than from some of the more costly marketing channels the supporters of that initiative use. How much do you think the hat cost? And Lynne got a lot of great hikes and fun out of it, too!
 Example #2 – The Inside of a Saks Fifth Avenue Shopping Bag 
Yes… really. Wow – this was a real shocker, I don't know about you but I just don't think of Saks as an internet-savvy kind of company. Turns out I'm wrong. Not sure how much you can see in this picture, however, there's a graphic on the bottom of the Saks bag (and it's a very nice bag, the kind you don't use for garbage) I picked up the last time I was shopping at their store in San Francisco.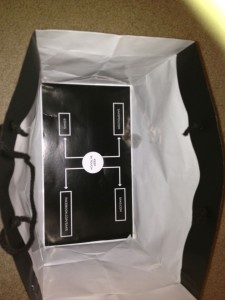 The Saks bag graphic is cool – very uncluttered, easy to digest and unusual enough that it gets your attention and draws you in to check it out. The center of the graphic invites you to Keep in Touch. Then, arrows to go the four corners of the bag where you are acquainted with four new ways to stay connected with the brand: SaksPOV, Saks.com, Twitter and Facebook. 
Of course, I had to check each out and I found a whole new side to my notion about the Saks brand emerging. It's a happening company and I wanted to engage with it. Now, I'm a member of their tribe… who knew?
Perhaps part of your online business strategy might get a boost from some creative offline marketing tactics like these.
So, I'm now collecting these quirky offline to online marketing tactics.  Because it's fun! Anyone care to contribute?
Related Posts: