The Kingpin of underutilized marketing assets is content. Whatever the form of content you have — articles, webinars, videos, blogs, presentations, podcasts — it was certainly a great deal of effort to create, right? And you have to keep producing more all the time, right? Content Repurposing could vastly improve the ROI of each piece of content you produce and get you off of the Hamster Wheel of constant new content production.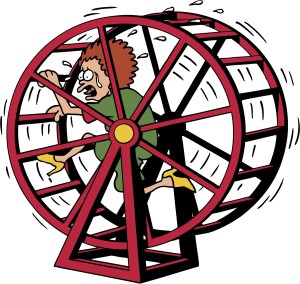 After all, there's a tremendous amount of work and effort involved in the creation of just about any type of content. You have to come up with an idea, get approvals, either write it or hire/manage a writer, go through endless drafts, pull together supporting materials and resources. I'm exhausted just ticking off that list and anyone who has done this KNOWS there's more to it.
Why just get one use out of it when content repurposing can get you off the hamster wheel… at least occasionally?
The other part about content development that's frequently overlooked is that it's costly. No matter whether your time is the only cost (and I use that word "only" very tenderly) or you paid to have this done, if you're producing something of quality there's a price to pay.
Content Repurposing Example: Webinars
As an example, consider your average webinar.  Anyone who ever had responsibility for developing a webinar knows that it's a ton of work which frequently has a good payoff in terms of generating leads, business, improving brand reputation, etc. And, since most webinars are ~ 1 hour in duration, there's a LOT of material to repurpose.
Yet, once the webinar is over, that pretty much tapers off the benefits that your business receives. Now you can repurpose the content from the webinar and create numerous other content assets WITHOUT NEEDING TO CREATE NEW CONTENT. Here's just a small example of what you can do with the material from just one webinar using the already approved transcript and visuals:
Create a video and publish it on YouTube
Create a presentation and publish it on SlideShare
Add another article to article distribution channels, such as Ezine Articles
Create still another article for your website
Create numerous blog posts from webinar FAQs
Create a guest blog post
Add webinar images to Pinterest
Each of the channels referenced are just examples of publication channels you could use for that format type. For instance, you could also add a video to Vimeo and other video distribution channels as well as YouTube.
Of course, the key here is to optimize each newly created piece of content, add links and teasers back into the key "sell page" on your site and make sure it's shared in relevant social networks which will further amplify the reach of your content and add social value to your targeted web page.
By my count that comes to 9X the leverage on one piece of content (including the original webinar)! That's a least a rest from the content hamster wheel. Content repurposing creates powerful value for your business at a fraction of the cost and effort required to create new content. Doesn't it make sense to add content repurposing as a major part of your content marketing strategy?
Related Posts: