What stops many people cold when it comes to Content Marketing? It's a LOT of work… usually. SO, I'm always looking for easy ways to do that… read on. 
It turns out most businesses have a ready-made Content Goldmine they aren't leveraging at all – their prospective customers' comments & questions. You can mine this gold from customer service channels, event Q & As, forums, blog comments, etc. This type of content loosely falls under the category of User Generated Content (UGC).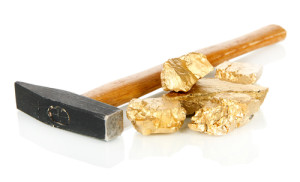 By far my favorite is the rich UCG content that's typically generated in webinar Q & As. Why is it my fav? – because it's coming directly from targeted prospects. Now, you have a marketers' dream – a highly interested group of prospects who are willing to tell you what interests them the most.
AND, you've already answered their questions and it's recorded – instant spot-on content! Now, all you have to do is get a transcript of that webinar and the content is already written for you. Many webinar vendors will provide the transcript for free. If not, check out Fiverr for super inexpensive and fast transcription service providers (I'll warn you in advance – Fiverr's an entertaining and addictive resource).
Now comes the fun: content repurposing of the shiniest UCG gold. Here are a few ideas:
Build a blog post around one meaty webinar question.
Publish an article about a Q for online distribution.
Combine related Qs into a SlideShare presentation.
Combine related Qs and build a video around them.
Distribute the new content to your House Marketing List. 
Content repurposing (UCG or otherwise) can be very powerful in terms of garnering more visibility, leads and influence for your company. Looking for ideas? Check out the story of how one HR SaaS company hit it out of the park: The Pragmatic Power of Content Repurposing.
You now have a great opportunity to re-engage with your webinar audience by sending them notification of the "new" piece of content that you created from the webinar they attended. Send it to the ones who signed up but couldn't make it, too! 
Last idea — leverage your webinar presenters and sponsors as publishers of the new content. Chances are very good that they'll want to publish the article (where, of course, you have credited them) and get it in front of their fans as well.
Do you see why I think of the combination of User Generated Content and Content Repurposing as a Content Goldmine? I LOVE, love, love this idea and would love it also if you had further ideas on this that you'd share.
Related Posts: