Recent chatter online about Google's latest ranking algorithm update — charitably named "Hummingbird"– is just the latest kerfuffle about a series of ranking algorithm updates they name after animals that Google frequently lets loose to ensure the quality of information they provide to their customers (aka searchers) remains high.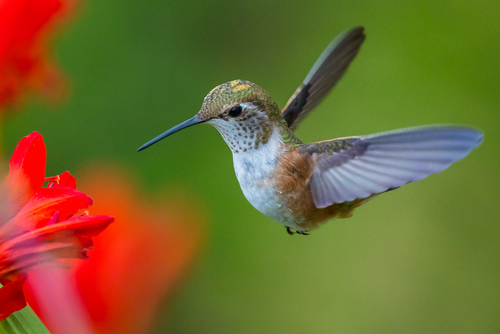 Here's the Deal: Google will generally tell you if they have a problem with what you're doing with your website! And the communication vehicle they use is Google Webmaster Tools (GWT). Ignore at your own peril.
Google's GWT Definition: "Google Webmaster Tools provides you with detailed reports about your pages' visibility on Google" sounds benign yet it is a powerful communication tool from an entity that wields a lot of power. It's a simple code snippet that you paste into the coding on one page of your website, verify you're the owner of the site (or admin) and Voila! — instant communication from Google.
For instance, they will send you warnings if they have an issue with your site. We received this warning notice from them several months back:

The warning included the specific URLs on our site that were causing them some concern. Aside from warnings GWT also provides highly useful information that can help you with your business, even helping you build a competitive advantage.
All warnings are not as low-key as ours was. They will also give you warnings about things that are far more serious to them, such as the case with a New York City online retail client of ours. Their brief story — Ignore Google Webmaster Tools At Your Your Own Peril! — is a cautionary tale. 
Ignore Google Webmaster Tools At Your Own Peril!
Around a year ago I received a phone call from a former client who was now an executive with an extremely lucrative online retail clothing company located in Manhattan that earned a fortune every year from their online clothing sales.
Their Google ranking visibility had plummeted and as a result sales and revenue had plummeted as well.
The client knew about algorithm adjustments Google had made, such as Panda and Penguin, and hypothesized that the drop was due to something they had unknowingly done to run afoul of those updates. Could we help them identify that so they could fix the problem and get their business back to normal? Could we do it right away?
One of the first places we looked once we had full account access information was Google Webmaster Tools. And here's what we saw: Google had been communicating with them for MONTHS, becoming progressively more strident about problems they had with the site. Finally, after several months of communicating and getting no satisfaction, Google took the next step and pulled our client's site from the high-visibility positions they enjoyed and the rest is history: No Visibility, No Sales.
Well, they didn't exactly have ANY sales since Google wasn't their only online sales channel, yet the loss of prominent visibility on Google took a huge bite out of their expected sales. About the only good news was it didn't happen during the holiday shopping season.
BUSINESS PERSPECTIVE: From the perspective of our client, this was the first they knew of any dissatisfaction at Google's end.
GOOGLE PERSPECTIVE: From Google's perspective, they had been knocking on the door using the communication channel they provided website owners (Google Webmaster Tools) which they knew to be installed and verified. Yet no one was taking action.
Once we informed the client of the messages that Google had been sending them they took the corrective actions and regained their ranking visibility and saw sales go back to normal.
In fairness to our client, the reason this occurred was at least partially due to a major internal reorganization that left ambiguity around who had the responsibility for this business unit's website (they had many business units) GWT account. No one believed it was his or her responsibility.
And, by the way, the messages that Google had been sending them were only tangentially related to the most recent algorithm updates. So, without the specific guidance from GWT they would have expended a lot of energy looking in the wrong places for a solution and lost even more time and money.
That's their story — think how much larger bonuses would have been if someone had only paid attention to Google Webmaster Tools.
For some reason, the Hummingbird update has been particularly vexing to a lot of website owners who have seen their rankings drop and don't understand why. Like our client, I'm betting a lot of them could have prevented their problems from even happening by tuning into and managing via Google Webmaster Tools.
In the immoral words of a mentor, Doug Quinn:
"Manage the Beforemath, Not the Aftermath."
(And sorry if Doug stole that from someone else – it's worth stealing, though.)
One of the best ways to stay on the right side of these incessant Google algorithm updates is to install, monitor and use the guidance available in Google Webmaster Tools. Here are 5 Google Webmaster Tool Tips to help you; useful even if you already have GWT installed:
If you don't have Google Webmaster Tools installed, do it today. It's a simple snippet of code they provide that gets embedded on just one page of your website and verified. It's free and it's a 5-minute job.
Make sure there's someone in your organization accountable for reviewing GWT communications on a routine, scheduled basis. Many times I find that everyone thinks it's someone else's job… and guess what?
Make sure the accountable GWT person also understands how to use Google Webmaster Tools — get training for them if necessary and make sure they keep their knowledge fresh.
Consider taking advantage of some of the tools they are increasingly making available in this section, such as the Structured Data Tool and Author Stats to get a leg up on your online competition.
Change the culture of your organization by including a reporting component for GWT in your Monthly Performance Dashboard. Do this even if there are no problems; simply show it as OK. Set Expectations.
Algorithm updates like Hummingbird aren't going away… this is a way of life with Google now and Tiger, Canary and Bobcat will probably follow Panda, Penguin and Hummingbird. Do yourself and your company a favor and manage the beforemath of the Google Zoo's next update! 
That's my opinion — what do you think? 
Related Posts: