What the heck were you thinking about when you named your two new social networking products Google+ and +1? Those names are sooooooo confusing and soooooo egocentric! For those of you (99% of the world) who are confused or think these are the same (they aren't), the following will hopefully un-confuse you and show you why you just might care.

Google+ also referred to as G+ and Google Plus, is a social network. And, I might add quite a good one. For those of us who found Facebook too much of a pain to segment the various facets of our lives (like personal from professional, for instance), Google+ is a highly intuitive user-friendly social network with some key features that will really knock your socks off. It's worth getting engaged for their incredible Hangouts video feature alone – more about that in another article.
You may have heard that Google+ was only available by invitation while it's in Beta mode. Fear not, Google opened the doors to the public and their subscriber base immediately soared even higher than it already was soaring.
G+ for business is coming soon, if it hasn't already happened by the time you read this. Based on what we know from the beta tests they already have underway with a select group of companies, it appears that it will be far easier to use for business branding and marketing than the other social networks out there today.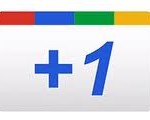 Google's +1 is a social sharing function, similar to Facebook and LinkedIn's Like products. You can now see the +1 button nearly everywhere on Google properties and websites all over the web. If you own websites or publish content in places like YouTube, Squidoo, etc., then adding the +1 button is a new "must do" in digital marketing.
+1ing something means that Google can potentially show people they deem to be in your social network (and for most of us that's quite a lot even without any effort on our part – Google knows all!) or in your Google+ Circles that you have "liked" that content. At minimum, your +1 will increase the count that shows in the +1 button denoting the popularity of that content. Google's betting social voting will make search results even more relevant.
Both of these products were announced in the Spring/Summer of 2011. Both have hit record numbers of subscribers or users within weeks – mega millions & billions.
So, then the burning question is… why bother? Of course there are die-hard Facebook aficionados out there who call this a blatant rip-off of Facebook and decree that it won't work… too little and too late they say. Not so fast, Google's early new member growth simply astounds.
Aside from the competition underway between these two giants and their surrogates, here are a handful of additional reasons you might care:
Initial testing indicates a benefit to search engine ranking and clicks.
+1 is now on Google's AdWords search & content networks – differentiating and potentially improving advertising results and cost per click.
+1 is now mobile – potentially a great boost for local-based businesses that rely heavily on consumer recommendations.
G+ is a great way to smoothly stay in touch with divergent groups of people that are important to you.
Google distribution clout — current and anticipated integration opportunities within the ever-growing family of Google products easily extends your reach.
The features in Google+ are actually great productivity tools.
Well, I have to say there are a lot more reasons to dig into this. They've really done a nice job with G+ and the features are fun, easy and productive. It's Google — why not give it a try?
Related Posts: