Customers have changed their buying behavior in favor of the Internet and there is just no looking back.  The way people gather information in anticipation of purchase decisions favors information available on the Internet at least at the front end of their buying deliberation process.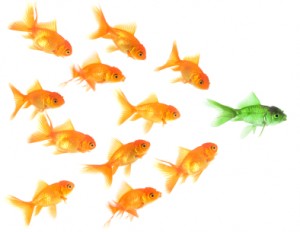 No longer held in thrall of a sales rep to help educate and inform their purchase decisions, prospects are using a plethora of Internet resources to build their own decision framework, at their own pace, and without the angst of sales pressure.
And that process includes a wide range of input that is available on the Internet – from review and rating sites, case studies, and testimonials to the new social media sites where they can "get it from the horses mouth."
What's the implication?
You need to be on the web, you need to be found and you need to provide content that is interesting, informative or entertaining.  If you could do all three AND in highly visible, consumable formats you'd be very happy.
How does this happen? Ideas for online lead generation:
Create a fairly steady flow of non-promotional content that buyers will find useful as they begin and proceed through the creation of their buying consideration process.
You need to "Fish Where the Fish Are." Indeed it does mean social media formats such as video, slides, webinars, blog posts (yours and others) articles, forums, social networking sites, etc.
Influence the Influencers. Leave intelligent comments on the blogs and in the forums of Influencers. Develop a relationship online and nurture it offline.
Sounds like a lot of work? Master the Art of Repurposing. A blog post can become an article. A couple of blog posts can become the basis of a slide show, a webinar, a video and an audio podcast.
As usual, always work with an Internet marketing plan on how to optimize the content for higher search engine and social media visibility.
Give up the notion of holding back information and clobbering everyone with self-promotional content. Information is the cost of doing business; figure out where your dividing line is and give them everything up to that point. They'll get the message that you're the good guys who have helped them out and now assign a level of trustworthiness and expertise to you that causes some of them to seek you out. Guess what happens when they seek you out instead of the reverse? The buying cycle time is shorter and your closed sales increase.
Your organization can either accept this new reality or continue to work as though this massive shift hasn't happened. Realize the need to change your approach all the way through the responsibilities of your sales team. The role of a sales rep will de-emphasize prospecting activity in favor of more time spent closing sales with businesses that have sought you out – how good is that?
Related Posts: